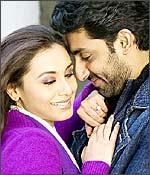 When it was released in the UK on 11 August, Kabhi Alvida Naa Kehna smashed the record for attendances to a Bollywood release in British cinemas. In its opening weekend it netted £750,000 and reached number five in the UK Box Office Top Ten. It was also a hit in the US (netting $3,383,517 so far) and India. Read a review of the film by UKHotMovies.com's guest critic Ramchandra Solanki.

Director: Karan Johar
Cast: Shah Rukh Khan, Rani Mukerji, Preity Zinta, Abhishek Bachchan, Amitabh Bachchan, Kiron Kher


On the very outset, whether it be all the publicity, interviews, to some degree even the music, we have been well informed that this film is a love story about two people which is set outside the realms of their own marriages & this in itself is a daring stride.

How so you might ask? Well, partially it burns down to films being a huge part of people's lives in the Indian culture. If this is your first experience of Bollywood I should probably point out that in the Indian film industry we have lagged behind the rest of the world, for one reason only that I can put a finger on, and it has nothing to do with the song-and-dance as many may suggest, but it is the fact that they have been aimed specifically at the Indian audience for decades. Perhaps it shouldn't be, but it is considered a benchmark within Indians even to the extent of it being used as a tool by the elder generation to give guidance & set morals in their children, almost like the way many of us from early childhood are taught about God & religion.

Easily done, as the people of India are surrounded by our films far more than they are here in the UK, it is almost frowned upon if you haven't seen the latest Bollywood blockbuster on the weekend of its release. The people are more in touch with the latest & greatest in films than they are in the politics of the country, in fact politics probably comes 3rd place after films & cricket. An example is probably if you asked a kid who the Prime Minister of the country was they are less likely to know than who Shah Rukh Khan or Amitabh Bachchan is.

Over the last decade or so, the industry has raced forward in quality & the reason behind this amongst many is that they now realise that their revenue is not only a matter of selling to the locals but the NRI (non-residential Indians) too. The many that live here in the UK or in the US have become a massive factor in their revenue equation. This understanding that the audience they are to aim for is larger means a much wider scope for ideas to be portrayed. Now that this has caused interest in the industry by the film festivals such as Cannes, Toronto, The Oscars and recently BAFTA, hopefully this will only help the progress to aim even higher and try & aim for an even wider world-wide audience.

This pretty much brings us up to date and now I shall promptly move on to the film in focus: Kabhi Alvida Naa Kehna (abbreviated to KANK, translated 'Never Say Goodbye') - Karan Johar returns after four years with 'Kuch Kuch Hota Hai' and 'Kabhi Khushi Kabhie Gham' his directorial accomplishments under his belt, this has set such high standards that as you walk into the screening, you can't help but wonder: will he manage to surpass his own achievements with KANK or not? Especially since it's the first time that Karan has changed tracks. I mean he has tackled romance and relationships in the past, but KANK goes a step further. It takes a bold look at relationships rather than merely glorifying them and makes a statement about the institution of marriage. Having known the premise of the film you shouldn't expect a typical candyfloss entertainer. In the 22 reels ahead, Karan packs in some moving, real, straight out of life moments.

Plot Summary:
KANK narrates the story of two families. There are the Sarans: Dev, his wife Rhea, their son Arjun - played by Shah Rukh Khan, Preity Zinta and child artiste Ahsaas Channa respectively, & there are the Talwars: Rishi, his wife Maya & his father Samarjit (though after watching the film you're more likely to remember him as Sexy Sam) - played by Abhishek Bachchan, Rani Mukherji & Dr. Amitabh Bachchan respectively. Both marriages are steadily moving forward but clearly unstable from the very moment we meet the characters.

Dev & Maya's paths cross and they find friends in each other when they realise & find a little comfort in sharing thoughts with each other as they are both in the same situation of weak on the verge of breaking marriages. Through many a cup of koffee** and conversation regarding their respective marriages, they find themselves falling for each other. The crux of the story is how the two & their families deal with this (once they admit it to themselves & each other). A simple story, a concept far from novel you might think, & not wrongly, but as the case always is with Karan Johar films (Kuch Kuch Hota Hai, Kabhi Khushi Kabhie Gham & Kal Ho Naa Ho), its the way he portrays the characters, the way the plots & subplots & climax are unveiled upon the silver screen that makes the film far more than the on paper, simple, straight out of life stories.

Review:
From the very beginning as we are introduced to each character:
 - Dev winning a crucial football match, leading to him getting a 5 million dollar contract.
 - Rhea acing her job interview getting herself a job as a fashion journalist at a top notch magazine company called 'Diva'.*
 - Rishi getting blessings from his father as he prepares himself to get married.
 - Maya in her bridal dress looking pensively at her mirror. A lot of self-doubt and question.

We gather straight away that the novelty of marriage has grown old with the Saran couple as we see they lead their independent dreams & passions. We have a brief memorable meeting between the Talwar bride & Dev as she has isolated herself outdoors & is having cold feet. Dev convinces her to move along & get married after having a few minutes of advising conversation. As the Talwars marriage proceeds, Dev meets with a car accident & loses the ability to walk properly (& with this his football star career). This whole sequence has been written with much accuracy and precision, it covers the relationships between the couples and their parents with finesse. The editing of the sequence certainly deserves a special mention as it only helps this be conveyed superbly & keeps the pace moving sharply as required.

We move on to their lives 4 years later. We are to some extent reintroduced to the characters but now as couples rather than individuals. Dev has become a bitter self-pitying individual, with a sarcastic sense of humour, he coaches a children's football team & badly at that, he resents his wife's growing success and in the process, ends up turning all his anger towards his loved ones. As you already gather, Rhea is doing well in her job, bringing 'Diva' up in the ranks of fashion magazines in the US single handily, their child Arjun is being brought up primarily by Dev as Rhea tends to be occupied in her work. This is an issue between the couple as Dev tells Rhea to try & buy some time to come watch their son play football. On the other hand, the Talwar couple don't seem to be doing too well either, they don't have any children & their marriage seems to be devoid of any excitement or passion. Maya has become a cleanliness freak in the house and has no interest in the parties that Rishi has to attend due to his PR job. This way the couple are little involved with each others personal lives, reflecting the Saran's from some four years ago.

Dev & Maya bump into each other, a chance encounter involving Maya trying to save Dev's son Arjun from being kidnapped by the Black Beast. Only to find its all a massive misunderstanding. When they realise they are not so different from each other, they befriend each other for advice and ideas to get closer once more to their respective spouses. After a few failed attempts, they find that they themselves drift closer instead. Interweaved within this all is the guidance of Rishi's young at heart playful father Sam who gets to know about the rift in his son's marriage and tries his level best, collaborating with Dev's mother so that the two marriages may be saved.

All of the above is filled with light hearted moments, the humour keeping you interested in the on goings without much strain on your emotional chords. A sudden massive argument between the couples where all that was churning inside them is spilled hits you sharply like a ton of bricks. Here it is the performances more so than the writing the deserve the credit. Dev's jumping the gun, assuming that Rhea has decided to take a promotion abroad, and his instant reaction when corrected to say "if you declined the offer, why tell me? Just to make me feel bad?" seems a real reaction. His reaction to being told he is a failure by his wife stands out. On the other side Rishi confronting Maya for having not having married him at all & simply promising is a scene that sticks with you, as she realises that he is absolutely right.

At intermission point Dev admits his love to Maya at the station & we await the following events to unfold. In the post-interval portions, infidelities occur, betrayals are discovered and the couples' worlds go upside down. I shall stop the in-depth description at this point else I may end up ruining it for you, however a scene worth mention is when Rhea & Rishi join hands to try & fix their respective marriages not so differently as Dev & Maya had done in the first half. They both decide to make the first move by calling their partners, they both get through to voicemail (Yes, you know why).

Music:
The 60's theme "Rock n Roll, Soniye", The EuroVision-like "Where's the party tonight?", or typical mushy variety "Tumhi Dekho Na" the choreography of Farah Khan deserves all the praise it gets as it simply can't be faulted. The above songs I found do take a little getting used to & can sound a tad cheesy but you can't help but tap your feet to them by the end.

A notch above the rest however are definitely the songs "Mitwaa" which actually does convince you that these two (SRK & Rani) are slowly falling for each other, and the title song "Kabhi Alvida Naa Kehna" is simply beautiful, pleasant on the ears & conveys the pain of separation & the time that passes through the change in seasons superbly.

Performances:
With a huge star cast film like this, we expect the best from the best, what we get is not far from it:
Shah Rukh Khan plays the bitter, fragile, restless, flawed Dev to the Tee. His real-life quick witted humour must have only made this performance easier for him. His interactions with Preity in particular show a weak human side to the star. The scene where he is getting jealous of Abhishek at the opera reminds us of his ferocious Rahul from 'DARR', it seems they even stole a dialogue from there: "tum meri ho, sirf meri" (you are mine, only mine). People criticise SRK for playing the superstar he is in real life in his films too, this performance should put those to rest. His chemistry with Rani has only grown more & more believable since their first pairing in Kuch Kuch Hota Hai, 8 years back.

Rani Mukherji looks stunning and wears the part like a made-to-fit glove - Spot on. Not in any way criticising her performance here as it is perfect for the part, but she should probably be careful not to take up too many similar roles like this as it does seem for the past 3 years or so a major part of her on-screen time is spent weeping. Whether it be Black, Chalte Chalte, Paheli, Veer-Zaara, even Hum Tum to some extent. She's good at it, we get that, but its growing old. Please smile more, we like it when you smile.
Abhishek Bachchan plays the 'Bachcha' (child) in the marriage, his outbursts of excitement and stroppy mood swings seems natural and it is good to see him maturing in the last couple of reels. The change is noticable. Preity as the diva from 'Diva' is convincing as a wife that is working hard at trying to fill in the shoes of a father for her child. Her calm reaction once she learns of the infidelity deserves the distinction marks as does her confronting Rani in the climax. These two however do have this annoying scene where they are both convincing each other & themselves that singles rock. Bar this unforgivable teeny splinter, they've done well.
Dr. Amitabh Bachchan is still the supreme star showing the rest of the industry how it's done. The naughty streak that we see in 'Sexy Sam' is one very few could pull off at the age of 65. He displays a inner maturity only when required as we see in the second half, when he realizes that something is amiss. In fact, his expressions at the dinner table as he cracks a joke & his reaction to Rani once the penny has dropped reiterate the respect he has as an icon is well deserved. Kirron Kher excels in a brief but significant role. Arjun Rampal looks perfect for the bit part. Kajol and John Abraham both appear in songs add to the glamour. Child artist Ahsaas looks cute and acts well.
Overall Impressions:
A top notch film from the writing, performance and execution point of view. It is stylish, has substance, has kept the conventional modes of entertainment value for the typical audience in mind (Light hearted moments, Song-n-Dance, Lavish costumes, A-list actors) but at the same time has daringly broken the conventions in content, handling a sensitive subject with élan & total dignity, which will certainly earn it a lot of respect points.
The screenplay balances the two extremes of sweet light moments and sour showers of emotion with a familiar breeze. The relationship between the couples or even those between the parents and children are handled with respect. If there are moments that move you to tears, there are ample moments that bring a smile to your face too. The film is quite talky, but in a smart way. You never feel that the characters are talking to hear their own words or to fill up screen time.
Definitely worth a watch for the overall sweet-n-sour flavour you get from a typical chick flick. From the people that do them best, you can't really go wrong, with a sharp twist, a hidden message passed subtly through the first line in the theatrical trailer and the final line in the film:
Shaadi ki buniyaad sirf beinteha mohabbat honi chahiye, aur kuch nahi, kyun ke agar buniyaad galat ho to rishte toot jaate hai. "The foundation of a marriage should be an unconditional love for your partner & nothing else, for if the foundation is flawed then relationships break"
Snippets of a couple of other reviews that we agreed with:
"Maybe the initial public reaction may be a bit confusing and a little less encouraging, yet Johar should not lose heart. For, with KANK, he shuts the mouth of all those who call his brand of filmmaking as bubblegum-n-candy-floss. Karan Johar is brilliant, and the intensity of KANK sweeps you off to the magical world of yet unexplored emotions. A must watch for all who understand the foreplay of emotions. He has taken a step forward in redefining the paradigm of relationships. And also about the way we look at relationships. But maybe Karan should have curtailed the length of the film as it tends to get too slow at times." ~ IndiaGlitz
"Anil Mehta's cinematography is awesome. The film has been filmed in New York and the lens man captures the various seasons and colours with gusto. The outcome is easily comparable to the best in Hollywood. Shankar-Ehsaan-Loy's music is melodious. 'Mitwa', 'Rock N Roll Soniye' and 'Where's The Party Tonite' appeal also due to the vibrant choreography [Farah Khan]. The styling and the production values are topnotch. Editing could be tighter. A bit of trimming, would only sparkle the film further." ~ IndiaFM
* Diva - the dual meaning behind this being the obvious translation you would find in the English dictionary, the other being an Indian word for a small fire lit lamp (like a candle but fuelled with butter). So it was a smart little name for a fashion magazine especially if aimed at Indians (not that there is any mention of this in the film or that it is at all relevant, just a bit of trivia).
** Koffee spelt with a K for the TV Program hosted by Karan Johar where he interviews movies stars, incidentally he has considered it lucky & all his films start with the letter K, even the ones he doesn't direct (Kaal, Kal Ho Naa Ho) - his other lucky charms with a K are Kajol & King Khan
View movie stills